Our local expertise and service is backed by national strength. As an independently operating subsidiary of Trustmark Companies, CoreSource has the support of an A-category rated mutual insurance company.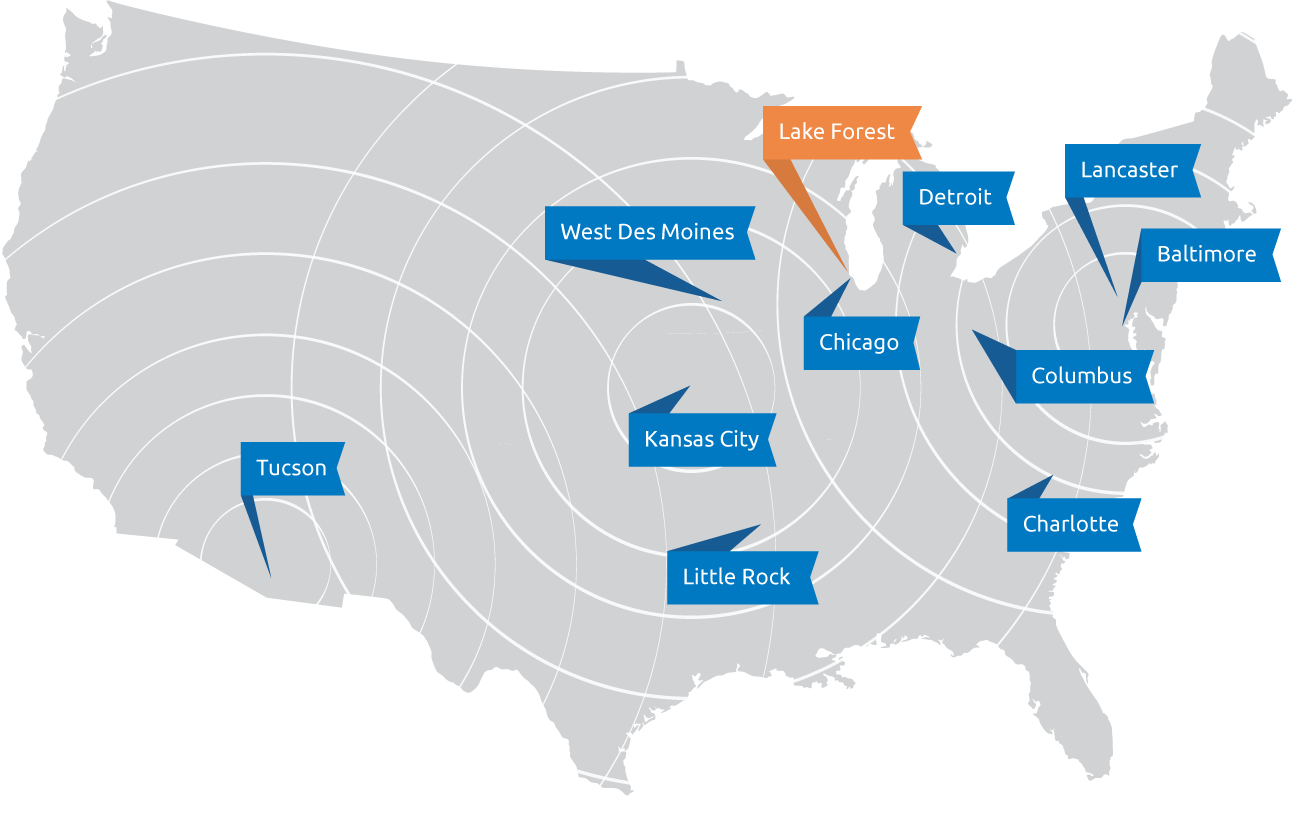 Baltimore
The Baltimore office values history, tradition and an intimate understanding of local issues affecting clients' healthcare benefits and spending. The same top managers have led the office for approximately 20 years, and nearly half of the 100 Baltimore employees have worked for CoreSource for at least 10 years.
Growth has been driven by the addition of new hospital clients, including an internationally recognized institute for pediatric developmental disability treatment, and the diversification of clients, which now include associations, colleges, retirement communities, broadcast companies, construction firms and state entities.
4940 Campbell Blvd.
Suite 200
Baltimore, MD 21236
410-931-5060
800-624-7130
Charlotte
The Charlotte office recently celebrated its 30th anniversary of administering benefit plans that meet the needs of self-funded employers. Even with today's challenges, CoreSource Charlotte continues to help employers design and administer employee benefit plans that match their business plans and meet the specific needs of their employee population.
2105 Water Ridge Parkway
Suite 600
Charlotte, NC 28217
704-554-4400
800-327-5462
Chicago
With more than 30 years' experience as a third-party administrator, the CoreSource Chicago office continues to meet the individual needs of self-funded groups in a wide array of industries. Its innovation and flexibility was highlighted by a recent decision to serve as the "back office" for a regional insurance company.
18401 Maple Creek Dr.
Suite 300
Tinley Park, IL 60477
708-342-1237
800-848-3012
Columbus
CoreSource Columbus specializes in the administration of employee benefit plans and the development and management of customized managed care solutions.
655 Metro Place South
Suite 500
Dublin, OH 43017
614-336-9604
800-282-3920
7115 Vista Dr.
West Des Moines, IA 50266 515-225-1215
Detroit
This office was founded in 1979 as NGS American, and the principles that formed the basis of our culture and organization at inception still actively guide us today.
Physical Address:
35601 Mound Road
Sterling Heights, MI 48310
Mailing Address:
P.O. Box 2310
Mt. Clemens, MI 48046
586-779-7676
800-521-1555
Kansas City
Our Kansas City office specializes in personal employee benefits administration. We assist employers with implementing and managing benefit programs. Our primary goal is to continually develop and refine our process to ensure satisfaction and ease of use.
6240 Sprint Parkway
Suite 400
Overland Park, KS 66251
913-685-4740
800-990-9058
Lancaster
The CoreSource Lancaster office focuses on the needs of the self-funded market in Central Pennsylvania and has since grown to become the largest CoreSource office in the country.
1280 N. Plum St.
Lancaster, PA 17601
717-295-9201
800-223-3943
Little Rock
The Little Rock office supports several product lines, including medical, dental, short-term disability, flexible spending accounts, and COBRA/HIPAA administration. Employees handle additional support functions, including eligibility and enrollment services.
1701 Centerview Drive
Suite 207
Little Rock, AR 72211
501-221-9905
888-604-9397
Tucson
The CoreSource Tucson office serves variety of industries, with companies ranging in size from 100 to 5,000 employees.
603 N. Wilmot Rd.
Suite 100
Tucson, AZ 85711
520-290-4600
800-888-7202
CoreSource Corporate Headquarters
400 Field Dr.
Lake Forest, IL 60045
847-604-9200